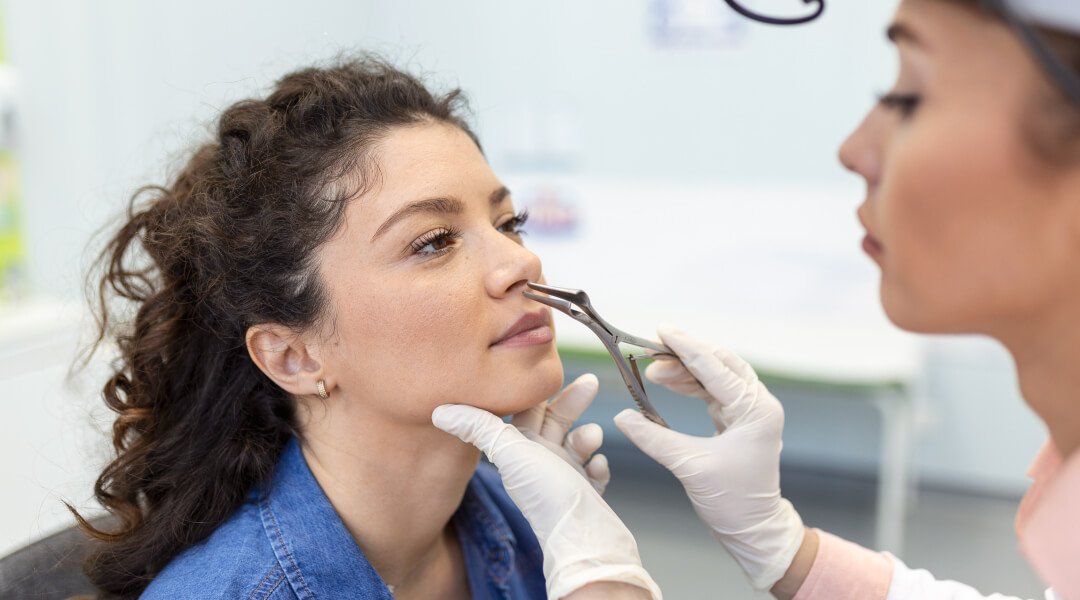 Rhinology- Nose Problems
Rhinology is the arm of science that deals with the conditions of the nose and its ailments. It's not all just about the study but also about curing and analyzing different nasal and sinus issues. Professionals dealing with cases under this medical study are known as rhinologists. There are two types of rhinologists, namely- nose specialists and sinus specialists. The most common rhinology sicknesses reported are allergies, nasal obstructions, and sinusitis.
Dr. Simple Bhadania is an experienced and highly qualified nose specialist in Ahmedabad. She owns the rising ENT center in Ahmedabad called ACE ENT Hospital. Apart from being an A-grade sinus doctor in Ahmedabad, she is also a competitive endoscopic ear surgery, head & neck surgery, and cochlear implant surgeon. She holds a degree in MS from BJMC after which she started with Neuro-ENT in SGPGI, Lucknow. Apart from practicing she was also a professor at the famous Sola Civil Hospital, Ahmedabad, where she supervised and performed thriving nose and sinus surgeries.
Want the top sinus surgeon in Ahmedabad to treat your condition? Consult Dr. Simple Bhadania at ACE Ent Hospital Ahmedabad.
Reliable Rhinology Services
We have already investigated the spectacular educational and industrial past of Dr. Simple Bhadania. We shall investigate what she deals with day in and day out. Here are the different rhinology services:
Septoplasty
This is a surgical technique where the septum of the nose, i.e. the nasal pathway that divides into the right and the left nostril, is disrupted. The procedure not only structures the nose but also enhances nasal airflow.
Turbinate Reduction
Turbinates are the tissues present in the walls of the nose. Turbinate reduction is the surgery that shrinks the abnormally enlarged turbinates to clear all nasal blockages. It can be cured by septoplasty too!
Nasal Polypectomy
Allergies and infections are common but can become severe problems if prolonged. To cure terminal allergies and infections nasal pulpectomies' are performed. It is also a step of the entire chronic sinus surgery.
Functional Endoscopic Sinus Surgery
Just as the name suggests, this is a surgical method to cure sinusitis. It widens the openings of the nose to get rid of the infection-causing disease. This also prevents the nasal mucous from getting trapped and causing other discrepancies.
Balloon Sinuplasty
Balloon sinuplasty is a surgical method of restoring ailments of the sinus. The procedure involves opening the blocked sinuses and allowing the drainage of mucous. It is the ideal non-invasive technique involving balloon dilation.
Dacryocystorhinostomy
The surgery is as complex as the name sounds. It is an invasive method involving opening the nose by allowing tears to drain from a blocked tear sac. The procedure is endoscopic and prevents external scars.
Septorhinoplasty
This is a combined surgical method involving a bit of both- septoplasty and rhinoplasty. Septorhinoplasty not just enhances airflow, but also gives it the looks. The surgery takes two and a half hours to complete and can be performed under general anesthesia.
Why go to Dr. Simple Bhadania?
Not all doctors are great at what to do. She has her own Ent center in Ahmedabad, ACE ENT Hospital. It's not just her passion and intellect that she's a doctor. Here are the power points that have made her what she is today-
Qualification
Apart from MBBS, Dr. Bhadania has cleared her MS Degree from BJMC, Ahmedabad, apart from which she has also pursued her Neuro-ENT from SGPGI, Lucknow.
Expertise
Apart from in-depth knowledge, something more that makes her an expert at her work is her experience in different hospitals as expressed earlier, and her past professional experience.
Knowledge
We saw the plethora of rhinology services that masters at day in and day out. Having knowledge of so many techniques is highly commendable. She is wise and scholarly.
Trend adaptability
Dr. Simple is a new-age doctor having versatile experience on the ENT front. She knows well what works and what is going on in the hospitals today.  She has been with the best.
Looking for a highly qualified and experienced nose specialist in Ahmedabad? Consult Dr. Simple Bhadania
Dr. Simple Bhadania is your ultimate savior for all ENT problems. She isn't just a rhinologist or sinus surgeon in Ahmedabad. She is also a well-established otologist, laryngologist, head & neck doctor, sleep apnea specialist, and much more.